Co-Associate Executive Director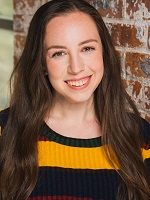 Yael has been a member of the Writopia Lab team since 2011. As the Co-Associate Executive Director, she oversees programs nationally and supports all instructors and workshops at Writopia's Upper West Side lab. Yael's favorite role at Writopia is that of instructor; she works with writers of all ages in all genres, including college essay. She has been recognized as an "Outstanding Educator" by the Scholastic Art & Writing Awards in 2012, 2013, 2014, 2016, 2017, and 2018, and her students have been awarded National Medals, including American Voice Awards, Best in Grade Awards, and Silver Medals with Distinction in their senior portfolios.
Yael is also the lead Program Developer of Writopia Lab's Language Play program, which runs enriching early-literacy engagement for the emerging writers. She has helped over 300 preschoolers become filmmakers as part of the Language Play Filmmaking program, and she regularly brings the program into UPre-Ks in homeless shelters and Title 1 schools in New York City. She also developed Writopia Lab's service trip to Quito, Ecuador and has led the annual trip each year. She co-created and runs WriCampia, working closely with all instructors, counselors, and campers year-round.
Yael will graduated from the Harvard Graduate School of Education in 2022 with a Masters in Education Leadership, Organizations, and Entrepreneurship. At Harvard she is a recipient of a Saul Zaentz Fellowship, awarded to emerging leaders in early childhood education. She holds a BA in English Literature from Stern College for Women of Yeshiva University. She lives in Manhattan but will always call Queens home!