Los Angeles Regional Manager
and Outreach Programs Manager
Associate Director of WriCampia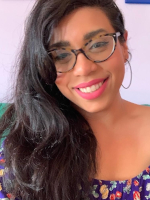 Elsa Bermúdez has loved teaching creative writing, essay writing, comedy writing, and graphic noveling at Writopia Lab since 2014. As National Programs Manager, she runs Writopia Lab's on-site scholarship program, Write to Recognition, and several off-site partnership programs. Elsa is a writer, comedian, artist, and educator. She earned her BA in Philosophy from Providence College and her MFA in Creative Writing in Fiction from The New School. Her short story Agency was published in H.O.W. Journal's Issue 11. She also studied improv and sketch comedy writing at UCB. Elsa has produced and performed on comedy stages around New York City, including the Magnet Theater, the Pit, and Upright Citizens Brigade Theater. She has directed for Magnet Theater's sketch program, Remix, and was on Magnet Theater's house sketch teams Mama's Boy and House Party. Elsa also wrote, directed, performed for, and produced the filmed sketch comedy show I Feel Funny. Currently, she is thrilled to continue her journey as Writopia's LA Regional Manager and to focus her creative energy on writing screenplays and drawing comics. Elsa lives in East Hollywood with her puggle, Bug.