Alex Minier
Office Manager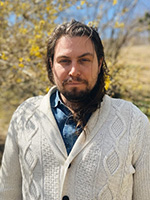 Alex Minier joined Writopia Lab as Office Manager in January 2023, bringing with him a decade of nonprofit experience. He enjoys the challenges and rewards of making an office hum—from finding the perfect snacks to organizing massive events—and learning every aspect of an organization so that he can always lend a helping hand. A bass player by training and nature, Alex loves to support others in doing their best work.
Alex holds a BA from the University of Wyoming and an MM from New York University. Originally from Nebraska, Alex proudly advocates for more Midwest energy in New York. When he's not at Writopia Lab, you can find Alex performing with more bands than any reasonable person would consider sane, cycling all over the five boroughs, and playing tabletop games with friends.
Join the Team!
If you love writing and want to share that love with young writers, apply today to join Writopia Lab! Click here to learn more!