Get Your Young Writer Involved with Writopia
With 19 labs and 25 schools at which we currently run workshops, there's a good chance we're within driving distance. Even if that's not the case, there are still ways to sign up your young writer for a workshop or private sessions.
Bring a Writopia Workshop to Your Young Writer's School
Please contact Rebecca@WritopiaLab.org or your local regional managers to discuss how to bring Writopia to your school. (In addition to the work we do in-school, we also run workshops in public libraries and homeless shelters.) We love this work, so please feel welcome to contact us!
Parent-Coordinated Workshops
Do you live close (but not close enough)?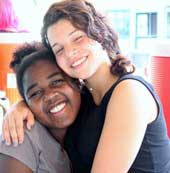 Each parent-coordinated workshop is organized by one parent-coordinator for writers who 1) live too far from our main labs to attend regularly and 2) live no further than an hour from a lab so that we may be able to send an instructor to you. Parent-coordinators receive a 25% discount for one child for coordinating workshops with a total of four writers; they receive a full-fee waiver for one child if a total of seven participants enroll.
Requirements: At least four children or teens you know (including your child) must register and pay the full fee for your in-home workshop; you must live within an hour of one our instructor's home; your home must have Wi-Fi. Since our instructor will be driving a distance to your home, we typically create a bi-monthly or monthly schedule of two- or three-hour long sessions.
Please Note: If you live in Queens, Long Island, Hudson Valley (NY), New Jersey, Virginia, Maryland, or Los Angeles, we may be able to arrange sessions at your home. Please inquire!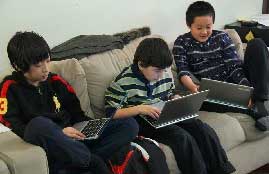 If you live within 30 minutes of one of our writing labs in Manhattan, DC, or Westchester, or Stamford we will most likely not be able to set up a workshop at your home.
Please contact RegisterNYC@writopialab.org or call (212) 222-4088 for information about fees and workshop details.
Sign up for Online Private Sessions
We also work with people all over the world via Zoom. Please email privatesessions@writopialab.org to arrange for online private sessions.
"Living in Europe, our experience with Writopia has been wonderful for Jakob, an American 6th grader, attending a full-time school in Spanish. His lessons via Skype are exciting and above all creative. He's loving it!"

Leslie Zabala
Bring a Lab to Your Area
We always consider requests to come to new regions, so if you do not see a Lab near you, please fill out our workshop request form to let us know where you'd like us to open a workshop!
If you have questions you can call us at (212) 222-4088 or email register@writopialab.org.