Support Writopia Lab
Your donations help us change lives... the lives of low-income children and teens who yearn to be included and empowered by a creative and intellectual community. And it's not just about creative writing. Your donation ensures that we may help low income, lower literacy teens with their academic essays, their college essays, and with preparing for the SATs.
Writopia Lab Funding Opportunities
Help us ensure another 15 years of young people finding their voices, turning pain to power, transforming their ideas into accomplishments, and achieving their award-winning potential regardless of their economic status.
Writopia Lab at Homes for the Homeless
Funding Goal: $35,000

How you can help:
A $1,000 donation provides one homeless teenager a year of writing support.
Any donation amount will help us reach this goal and is greatly appreciated.
Congratulations to Anthony Morgan and Amaya Walrond, two middle school writers who took part in Writopia's writing workshop through the Brownstone Futurelink program in Jamaica, NY, a Homes for the Homeless (H4H) family shelter, on their Honorable Mention recognition in the 2017 Scholastic Art & Writing Awards!
"The writing workshop gives homeless children a voice and a community that opens them up to the world and makes them feel a little less invisible," says Aurora Zepeda, Executive Vice President of Homes for the Homeless. "And when a child whose life is saddled with housing instability and poverty wins an award for their writing, it is as if the world has answered back saying: I see you! I hear you! And you, budding writer, belong to the world!"
Anthony and Amaya took part in a Writopia camp held last summer at Saratoga Family Inn. Children and teens living and/or attending programs at the shelter met for workshops three times per week for six weeks. These workshops, led by H4H program coordinators and Writopia instructors Abby Coleman and Elsa Bermudez, along with several assistant instructors and teaching interns, focus on helping writers create original pieces. As they receive individualized feedback and continue to write and complete pieces, writers build confidence in expressing their unique voice and develop and refine their language skills. Instructors and mentors also implement fun, creative, group grammar lessons during workshops to improve writers' grammar and mechanics. Because everyone's literacy level is different, writers also receive one-on-one help with their revision process.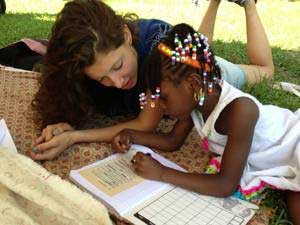 In addition to their time at the summer camp, each participant receives 30 additional hours of support throughout the school year.
Each year since the program began in 2013, H4H writers like Anthony and Amaya have received recognition from Scholastic and other writing competitions for their exemplary work; others have plays professionally produced in Writopia's Worldwide Plays Festival. At the end of each year, all of the writers' completed and revised work is compiled into an anthology published by Writopia Lab. This year, our 44 contributors will receive copies of this year's anthology, Exploring the Depths of Our Minds, at a release party, during which they will also perform readings of their completed, polished, published work.
Many of the H4H writers grow to love writing and continue to attend Writopia at H4H even after leaving Saratoga Family Inn. We would not be able to run this program without the support of individual donors, corporate support, and family foundations.
Thank you so much for helping us ensure another ten years of helping children and teens transform their pain to power, turn their ideas into accomplishments, and achieve their award-winning potential, regardless of their economic status.
Write to Recognition
Funding Goal: $130,000 per year

Thanks to The Pinkerton Foundation and individual donors, Writopia's Write to Recognition Program provides 50 NYC writers from marginalized communities with weekly after school creative writing workshops throughout and one-on-one grammar and critical thinking private sessions throughout the school year. These additional private sessions give our writers a greater chance of reading their work publicly, getting produced or published, or of winning external recognition for their writing. Write to Recognition empowers our kids as thinkers, writers, and leaders, and helps them develop into strong candidates for college admissions.
Residential Treatment Facilities/Write to Independence
Funding Goal: $20,000 per year for two years

How you can help:
$250 provides a 10 week writing workshop for one transitional age youth for a semester.
Any donation amount will help us reach this goal and is greatly appreciated.
Since 2010, Writopia has been bringing after-school workshops to The August Aichhorn Residential Treatment facilities, which serve and provide long-term care and treatment to teenagers who were "unplaceable" in any existing facilities except State hospitals or correctional institutions. Most residents are admitted from acute care psychiatric units, State Children's Psychiatric Centers, other long-term psychiatric treatment programs (usually RTFs), or the juvenile justice system. Writopia now brings an in-school workshop as well.
Since 2014, Writopia's Write to Independence program, which is funded 100% by individual donors through Writopia, has been providing emotional and literacy support for at-risk youth who are transitioning from Residential Treatment Facilities into adulthood. This program helps them find their voices and develop skills needed for success in the professional world. WTI provides two teens who are transitioning from the foster care system with a weekly writing workshop, an hour-long private session with a Writopia mentor, subway fare to and from Writopia, and usage of Writopia's space in times of crisis. We would like to add four more teens to this program in 2018 and 2019.
Throughout NYC communities, there is a staggering amount of at-risk youth aging out of the foster care system who have not received adequate support to transition into independent living facilities and adulthood. Many of these teens, ages 18-24, end up homeless, incarcerated, or back in the cycle of poverty. A leading issue is the lack of literacy for these youths as they begin to age out of the system. Literacy is integral to improving lives of young people who have experienced complex trauma while in foster care; the system often interrupts education opportunities. Many have either surpassed the allowed age to complete a high school diploma, have not received sufficient guidance, or have not had access to resources they need. We help them pass the exam, get grounded in a safe, quiet weekly writing space in the adult world, and find and keep jobs.
Worldwide Plays Festival
Funding Goal: $50,000

How you can help:
Your $10,000 donation allows us to include 20 children and teens from homeless shelters, treatment centers, and from underserved schools to be included in our festival.
Any donation amount will help us reach this goal and is greatly appreciated.
Beginning in 2010, 20 young writers at Writopia Lab were able to experience the exhilaration of seeing their work treated with respect—even awe—by professional designers, directors, and actors. In 2015, the Worldwide Plays Festival produced monthly showcases throughout the school year in off-Broadway theaters and culminated in a week of 47 fully produced showcases presented at The Abingdon Theater.
Literacy for All
Funding Goal: $50,000

How You Can Help:
$500 allows us to bring literary enrichment and literacy support (provided regularly on the Upper West Side to better funded schools) to one student in a struggling classroom in Harlem for half of the school year.
Any donation amount will help us reach this goal and is greatly appreciated.
Writopia Lab is working with struggling public schools throughout New York City, Washington DC, Los Angeles, and Connecticut to cultivate literacy skills, writing fluency, and a newfound love of writing in their students.
Impact Spotlight: Sojourner Truth Public School 149 in Harlem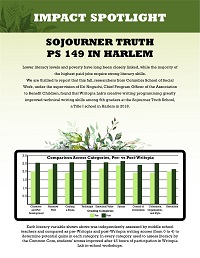 We have been working with the students at Sojourner Truth Public School 149 in Harlem for 3 years, and we are thrilled to report our most recent impact (see report on right). At Sojourner, Writopia Lab provides fours hours of support per week for 3rd through 8th graders. A recent New York Times article "Harlem Schools Are Left to Fail as Those Not Far Away Thrive" shed light on the support this and other schools in Harlem need. Almost every child in the school scored in the lowest bracket on the state literacy tests last year. We are determined to not let that happen again.
Our goal: to give the children at this school the same level of enrichment and literacy support that thousands of children are receiving a few blocks south; we hope to boost their literacy scores from 1s to 2s, 3s, and 4s by April, 2019. We need your help to be able to provide mentorship and one-on-one literacy support to every child in the school. Please apply to volunteer or donate to help us hire additional teachers to support our initiative.
About Writopia Lab
Writopia Lab currently serves over 3,400 young writers a year, over 1,850 of whom come from lower-middle class to impoverished backgrounds. In 2007, we set out to bring kids from all backgrounds together in intellectual, creative environments. Almost nine years later, we are considered the most socio-economically diverse literacy enrichment program in New York City and possibly the nation.
There is no doubt this diversity has inspired complex and powerful writing; our young writers win more prestigious writing awards and publications than any group of kids in the country including:
2015 and 2016 American Voices Winner
2015 and 2016 YoungArts Winners
2014 YoungArts Winner; 2014 publications in The Washington Post, The New York Times, Salon;
2012 and 2013 New York City Literary Honor from Mayor Michael Bloomberg;
The highest number of Scholastic National Gold Medals in the country every year since 2008, including the nation's top Scholastic Scholarship and Award, The 2012 and 2013 Gold Medal Portfolio;
2009, 2010, 2011, 2012 Best Play awards from Stephen Sondheim's Young Playwrights;
2010 Creativity and Citizenship Award and Scholarship from the National Constitution Center;
2011 New York Life Award;
2009, 2010, 2011, 2012, and 2013 Random House Scholarships for high school seniors.